The launch of an online ordering platform is an additional workload for many entrepreneurs. At Rakedi, everything is taken care of for you: you inform us of your graphic preferences, you give us your opening hours and you tell us if you would like to offer a pickup, a delivery, a meal on site or all at once. You give us your full menu, prices and photos of your dishes and we set up your complete website key-on-door. No pictures? No problem, we get them from our very large photo library. In addition, you will receive online training and, in no time, you will be operational online.
Because we at Rakedi know how to get rid of trouble!
WEBSITE AND ORDERING PLATFORM
Your own custom website with the domain name of your choice and an online ordering platform. Accessible via different devices.
Multi lingual
Talk to your customers in their own language and make your site accessible to all. French, Dutch, English, German, Chinese, ...
Accompanying
Your product list will be entered and an experienced expert will help you get started and assist you if necessary.
AVOID LONG QUEUES
Orders also arrive online and are processed more quickly, avoiding long queues.
AUTOMATE ORDERS
Save time because customers can enter their own order and pay online. This reduces the risk of errors.
TO INCREASE SALES
Greater proximity to customers and more efficient order processing lead to an increase in sales.
TECHNICAL TEAM
Our experts are ready to provide you with technical support and an up-to-date platform.
USER FRIENDLINESS
The product catalogue is presented in a clear and well-organized manner and orders can be easily transmitted.
CORPORATE ACCOUNT
Make sure that each employee of acompany orders and pays separately. The company's account is used for grouping the orders.
ONLINE PAYMENTS
The online payment options you want to offer customers can be chosen. We use Mollie as a payment partner.
DISCOUNT CODES
To offer discounts, you can create general or individual discount codes. Customers can use this discount code when they place an order.
PROMOTIONS
Put a certain product forward and give your customers a discount for a while.
TABLE RESERVATIONS
Allow customers to book a table through integration with an existing table reservation system.
PAYMENT AFTER WEIGHING
"It's a little more, is that fine with you?" Many dishes are sold by weight and, after receiving the order online, you prepare it and send the customer the detail of the correct weighing, the final prices and a payment link.
ELECTRONIC WALLET
Small orders increase your transaction costs for electronic payments, let your customer create their own electronic wallet with a purchase credit. You receive the amount in one go with a single charge and the customer quickly settles his credit.
ADVICE
From the back office, you write your own tips and messages that are immediately visible on your website. An additional opportunity to claim your client's attention.
DELIVERY AREAS
Areas where delivery is possible can be determined by selecting postal codes or streets.
EXCEPTIONAL CLOSURE
Are you away for a few hours? You can quickly add an exceptional closing time to your business hours.
STOCK MANAGEMENT
Your delicious dishes sold out quickly and you don't want to disappoint your customers? Turn on the stock function and your customers will notice how much you still have available.
OUT-OF-STOCK
Suddenly, an out-of-stock dish? You can turn it off quickly from your menu, so it will no longer be available online. Also use the "available again" automatic function.
GPS FUNCTION FOR YOUR DRIVERS
Do you deliver at home with a flexi job or a student? They don't need the experience of a taxi driver. With the Waze or Google maps button and QR code, they can find the fastest route.
MAILINGS CUSTOMERS
Your customers can sign up for a newsletter, all mail data will be sent to your Mailchimp. Ready for a spicy mailing!
INVITATION TO PAY
Has there been a problem with online electronic payment? We will carefully send an email to your customer with the payment link.
Re-order last order
Humans are creatures of habit. Does the customer want to repeat one of his last orders? All it takes is a click!
Previous
Next
We have an adapted solution for different sectors.
Recalculate prices after weighing, send pay links, group orders for companies, etc...
chip shop snack bar butcher shop pizzeria beverage shop restaurant delicacies hamburgers sandwich shop chocolatier caterers bakery pita bar grill ice-cream parlor grocery vegetables and fruit sushi fishmongers tapasbar taverne breakfast ...
Personalize your website
You can customize your website with your logo, welcome text and photos of your company. Also view your opening hours and introduce yourself and your business via the "About Us" page. In addition to the entry-level version, you can also customize your website, we've listed the options in the rates section.
Rates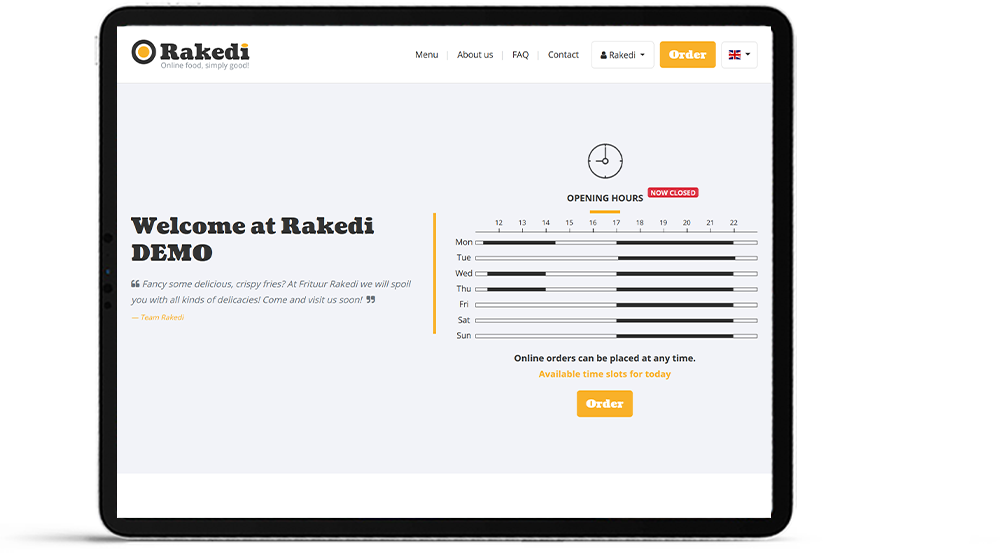 Order online
A customer has an overview of all the products you sell. These can be configured and controlled using attributes and/or options. To increase customer friendliness, they can recall previous orders and order them again.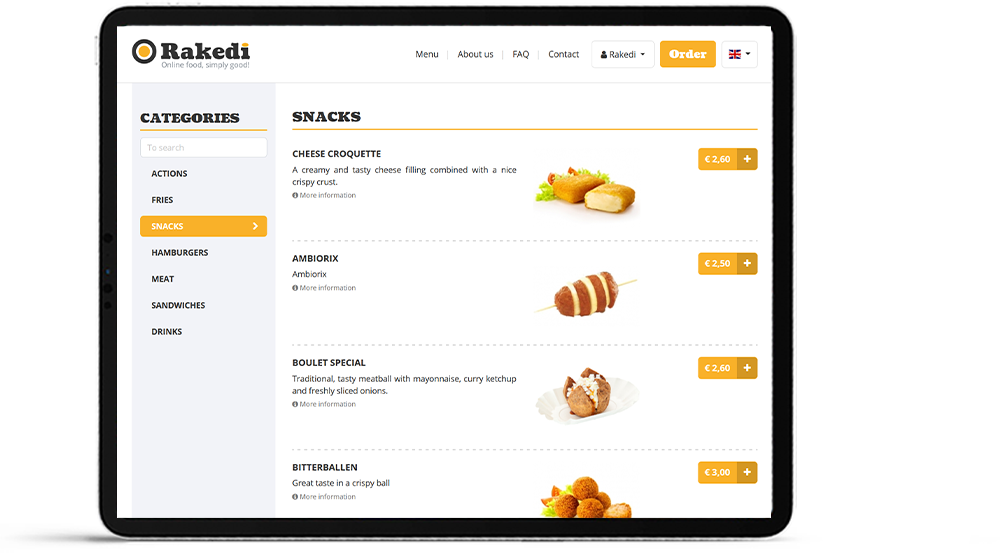 On-site delivery, pick-up and eat-in
Customers can order several days in advance and choose an hour of delivery or collection. It is also possible to order for consumption on site. Everything is supported by the vast parameters.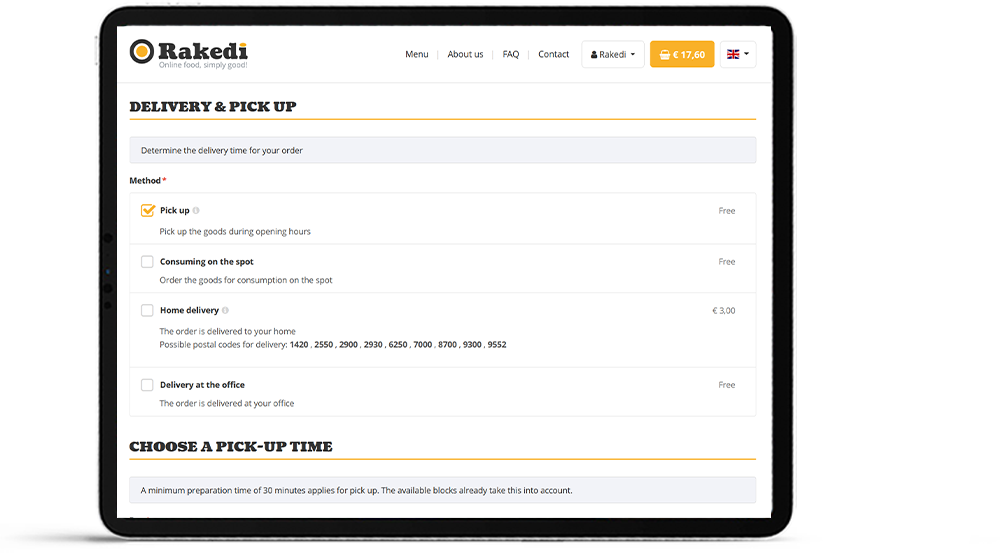 Payment methods
Decide for yourself what payment methods you want to offer. Customers can pay at pick-up, delivery, online and even with the Rakedi wallet. For payments after weighing, we have a solution with payment links, so customers are invited to make a payment.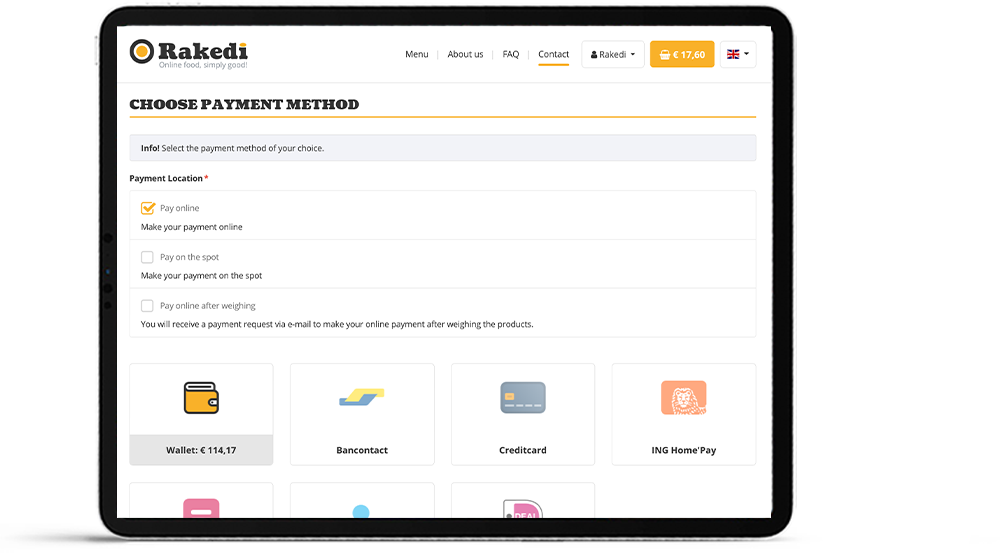 Management in your own hands
Backoffice
We listen carefully to your wishes, give us your list of food products, prices and information about your company and we deliver your website with the order function ready. Turnkey, so to speak. You can then easily adjust all the settings yourself according to the crowd, your capacity, the season, etc... This guarantees you a good start and you are now fully under control! Rakedi is known for his very understandable and complete back office.
Many customers say this is the greatest asset of their online business! Strong companies are flexible companies.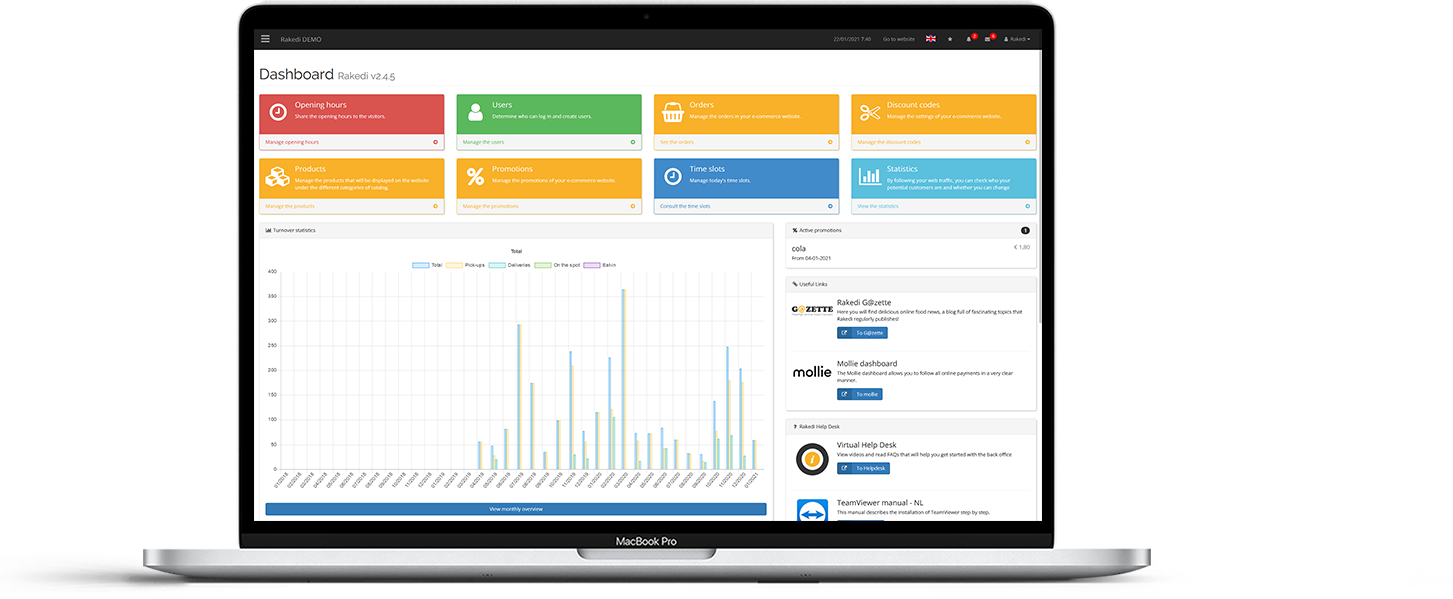 Flexible menu
Create categories in your menu and provide a clear structure so your customers can easily find your products.
Managing products
Select products from a large library or create your own products and determine attributes, options, ingredients, allergens, images, etc...
Opening hours
Determine your fixed opening hours and set exceptions or vacation periods via a convenient calendar view entry screen.
Managing capability
The maximum number of orders per time block can be adjusted quickly and easily so you can work at your own pace.
Tracking orders
On the big picture, orders are displayed chronologically and you have the option to change the status and inform customers by email or phone.
Delivery mode
Customers can collect their order and, if you wish, you can also offer home delivery. Depending on the postcode and the amount of the order, you can use different rates.
Statistics
Many statistics about your visitors are collected and, thanks to the link with Google Analytics, you can view them.
Settings
You can adjust and optimize all kinds of parameters that affect the operation of the platform.
And many more
Many features and possibilities are still available, please contact us for more information.