Payment methods
Online & offline
Choose between different online and offline payment methods.
At Rakedi, we work with a two-stroke control solution. This means that ordering and payment are two separate flows.
Why the two-stroke ordering solution and what are the advantages of our two distinct channels?
When the customer placed an order, he chooses a time slot available for pickup or delivery. The time slot fills up immediately and the following customers have real-time information about available time schedules. It is only after submitting their order, and if the customer has chosen to pay online, that he is directed to our online payment partner (Mollie or CCV) to make the payment.
In this way, the merchant can start preparing the order without the customer's electronic payment delaying the process. In addition, the time slot reserved for the customer is fixed.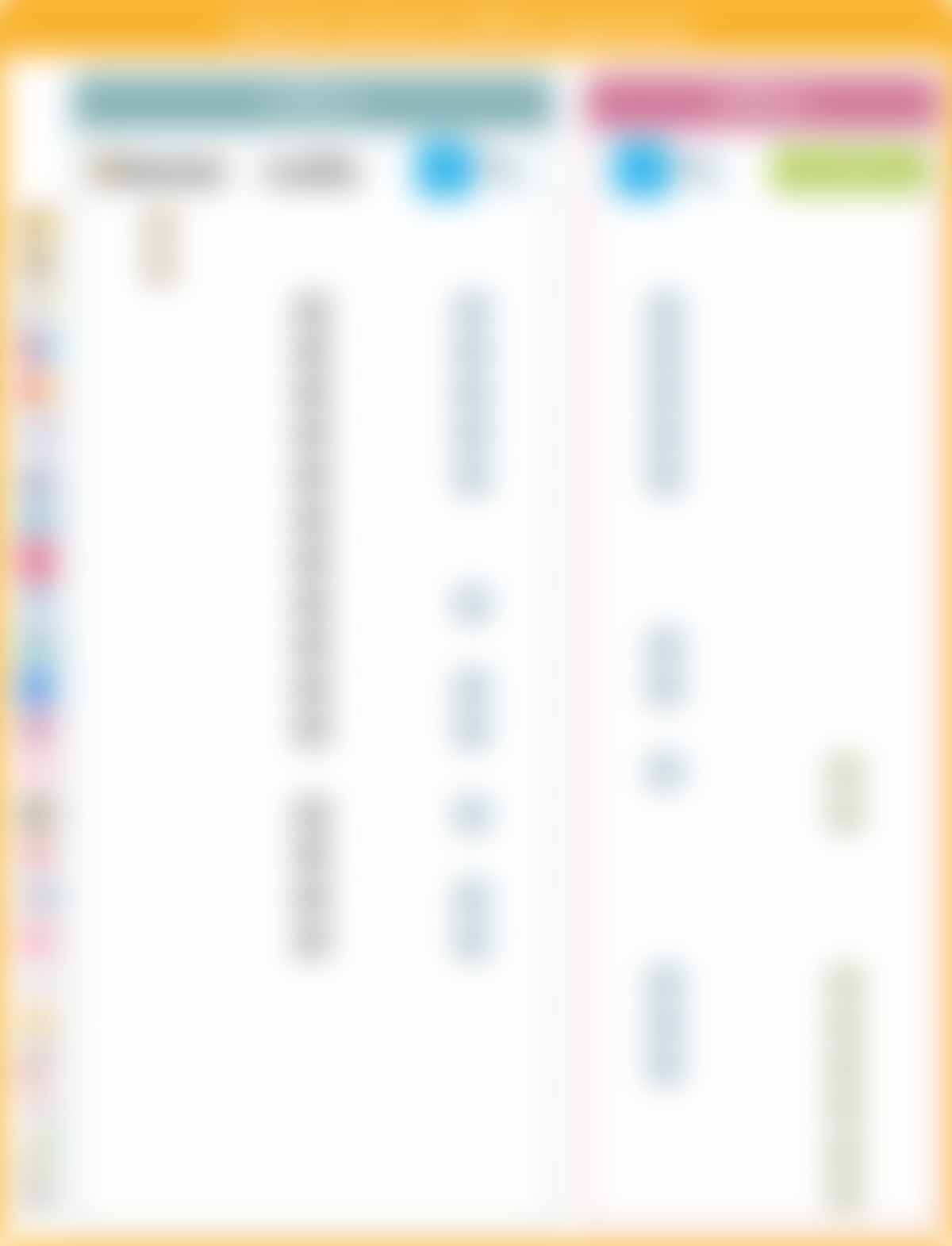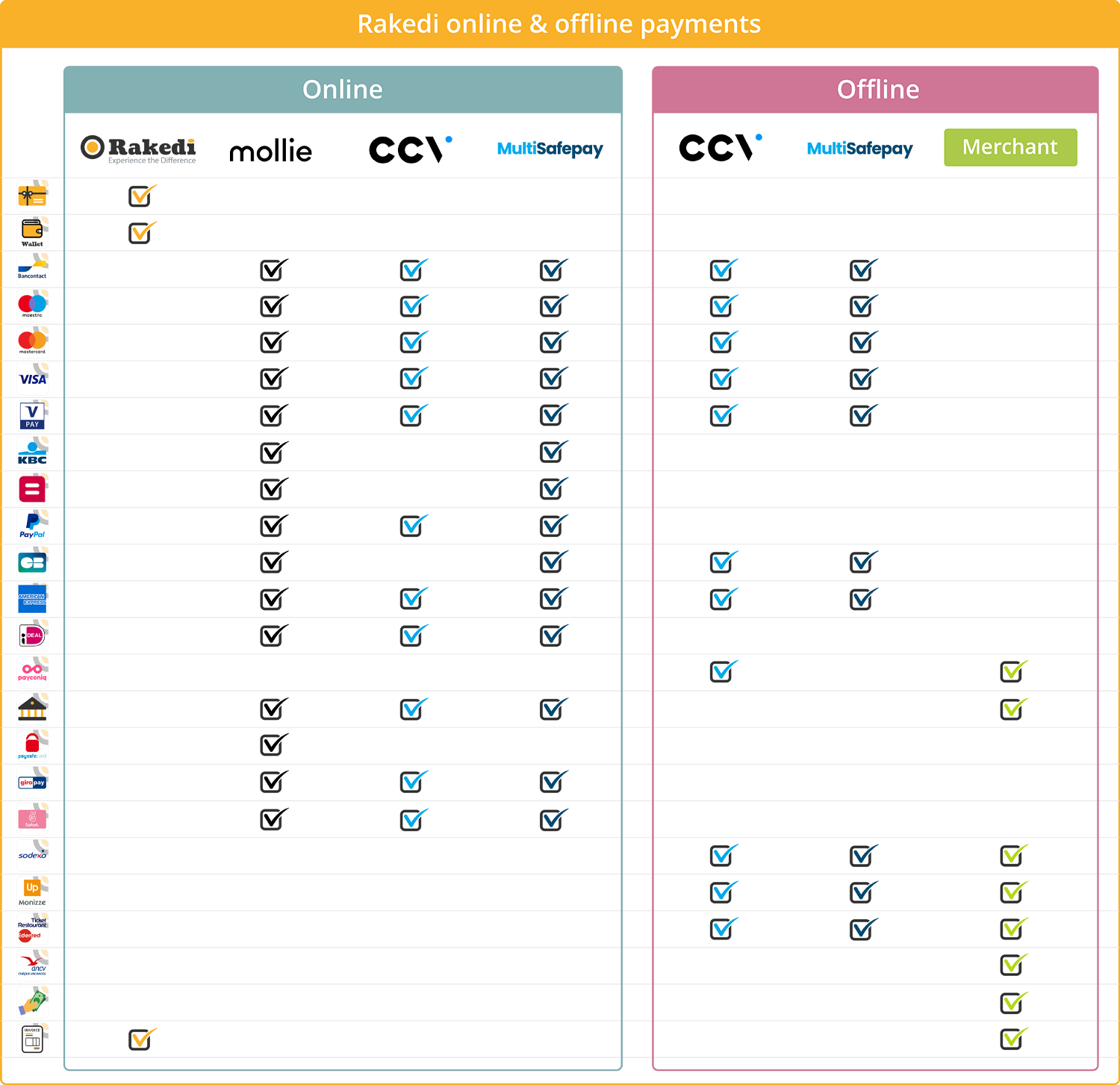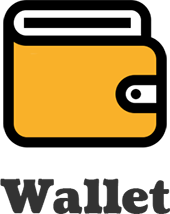 Your customers can create their own electronic wallet for quick payments and reduce your transaction costs.
What is it?
Small orders (e.g. sandwiches) increase the transaction costs of electronic payments. Your customer creates an electronic wallet with a purchase credit. As a merchant, you receive the amount deposited into your account in one go and the customer quickly settles his account with his wallet.
How much does it cost?
Activation
This feature is standard in your Rakedi online ordering solution and is therefore free. Any amount added to the portfolio by the client will be credited to your account.
Your costs as a trader
PSP (Mollie or CCV) costs for the chosen means of payment.
For your client
Free, of course!
Ordering online goes hand in hand with online payment!
Because at Rakedi, we try to avoid fixed operational costs, we have opted for a PSP (Payment Service Provider) which only charges a fee if there is also an electronic payment transaction. So you control the costs! Here, too, we relieve Rakedi's customers as much as possible of their worries.
We have chosen two European partners that offer all payment methods at a competitive rate.
The merchant may choose to offer the customer the option of paying on collection of his order. This can be done in two ways: the CCV payment terminal or other payment methods.
We call our business model Rakedi Connectivity and for years we have been more than just an online food ordering platform. As a market leader, Rakedi knows that online sales and point-of-sale sales go hand in hand. RakediPOS is our cash register system that allows you to automatically integrate your POS orders and payments with your online orders and sales. We can now add the CCV payment terminal to the RakediPOS POS.
Don't forget that from 1 July 2022 you must offer electronic payment in addition to cash. The Rakedi POS terminal can also be connected to a CCV payment terminal.
The fixed and mobile CCV solution can be linked to your systems, and you then choose a customised service subscription.
Fixed terminal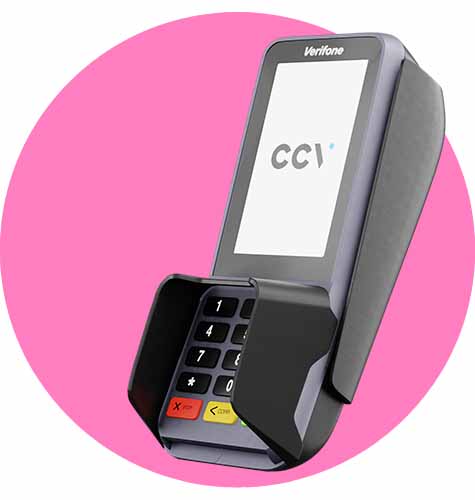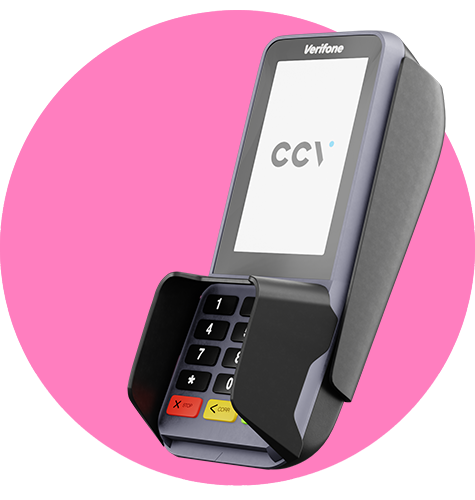 Stand-alone
Linked to the cash register
Linked to the ordering kiosk
Mobile terminal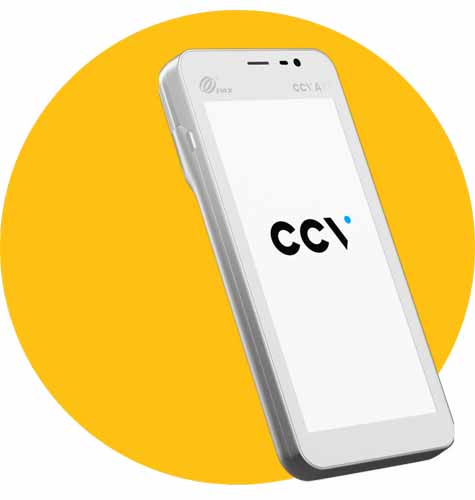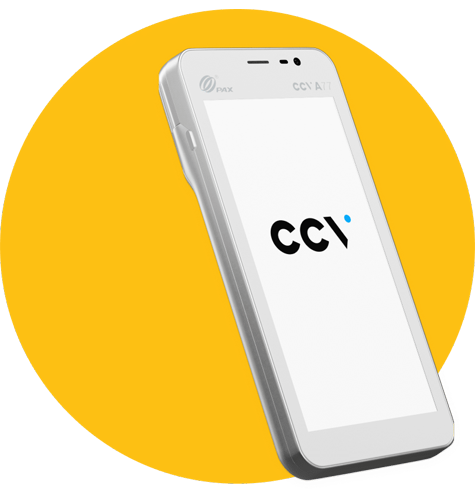 Stand-alone
Linked to the cash register
Advantages of electronic payment
Digital
Safety
Less cash at the consumer and in your business, reduces the risk of robbery, loss ...
Counterfeit money
Counterfeit money is still in circulation today, in both note and coin form. Electronic payment avoids this risk as well.
Cost of cash
Handling cash, e.g. having it collected or processed by the bank, costs money.
Customer freedom
Keeping your customers happy also means respecting their payment preferences. Various surveys have shown that 70% of consumers prefer to pay by card rather than cash.
Guarantee of payment
When a payment is approved via a payment terminal, you know that the payment will be credited to your account.
Ease and speed of payment
An electronic payment takes only a few seconds via a payment terminal. The money will be transferred automatically to your account.
Less administration
All transactions can be consulted via your payment terminal or reporting (online or via e-mail). This makes verification and accounting much easier.
More turnover
It has been proven that consumers spend more when they use electronic payments. In addition, research shows that the average consumer in Belgium today has barely EUR 35 in cash in his pocket.
Fewer errors
Incorrect return of change, a mistake made by you or the consumer during a cash transaction - all these are mistakes that cannot be made with electronic payments.
Tips
More and more you see that people who pay electronically offer the tip in cash or via a payment terminal. Most payment terminal providers currently offer the option of accepting tips.
At the point of sale
Offline
If the retailer so wishes, the following payment methods can also be offered to the customer during collection and/or ordering at the point of sale using the order terminal or the QR code on the tables: cash, Payconic by Bancontact, bank transfer, invoice, ...