Online E-vent Catering
Fairs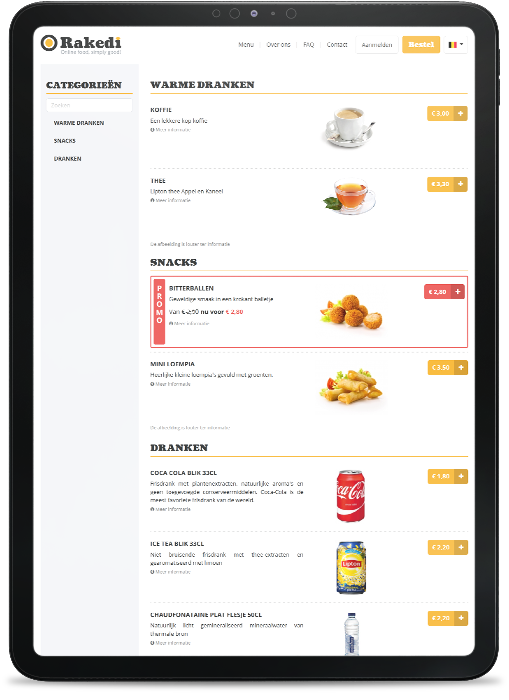 Trade shows are under pressure around the world and attract fewer exhibitors and fewer visitors!
The famous online food ordering app Rakedi has been adapted for use at trade shows and events where visitors can get a drink and/or snack. Exhibitor salesforce can now spend more time with the visitor because the catering service of the fair or event receives orders via the salesforce smartphone or iPad.
How much does it cost?
We'll be happy to give you a personalized quote based on the size of your event and the hardware and support required.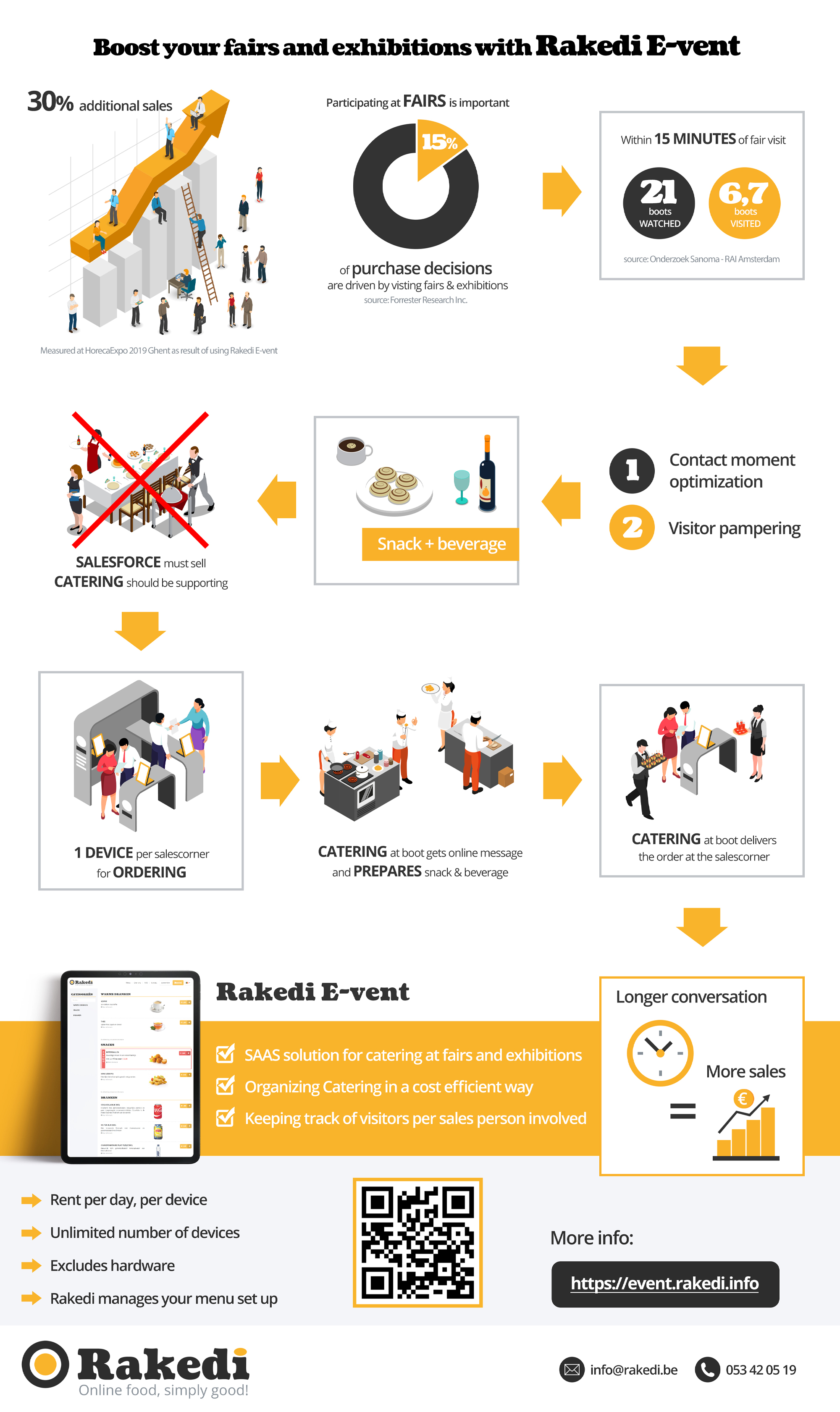 All prices are 21% excluding VAT
Start-up
Element
Price
Setting up a new platform
Includes a hosting pack with database on the server.
Domain name: sub-domain provided by Rakedi
€ 200.00
Customization
Logo
Header image
Change color from accent to company color
€ 275.00
Producten toevoegen
Max 50 producten met een maximum van 10 attributen. Per product maximum 2 gekoppelde attributen
Foto's van ieder product aan te leveren door de klant
€ 220.00
Configuratie parameters
Alle parameters klaarzetten voor de catering zoals tijdsloten, ...
included
Create accounts
For the kitchen
For the administrator
For each salesforce
For users or flex users
€ 55.00
Total installation for a trade show
€ 750.00
Daily prices
| Element | Price |
| --- | --- |
| Use the platform (number of users and unlimited devices) | € 150.00 |
| Presence of a Rakedi employee (8 uur) | € 440.00 |
Hardware
Element
Day
Week
10 days
Laptop
€ 25.00
€ 50.00
€ 75.00
USB-ticket printer *
€ 20.00
€ 40.00
€ 65.00
Network ticketprinter
(USB + LAN + Wifi + BT) *
€ 40.00
€ 80.00
€ 130.00
iPad
Separate quotation
iPad holder
*including 1 roll of paper
The advantages
SAAS solution for the catering of a show or fair

A more efficient and less costly catering organization

Tracking visitors/exhibition staff

The server and hosting are managed for you by experts

7/7 pupport

No fixed monthly cost

No contracts