The Sligro Food Group is made up for 100% of food service companies that focus directly and indirectly on the market of food enthusiasts in the Netherlands and Belgium.
Part of Sligro Food Group Belgium, Sligro-ISPC now has branches in Antwerp, Ghent and Liège, making it the unique one-stop-shop for the Belgian fod service. Food professionals face many challenges in purchasing, quality and other issues every day. Sligro-ISPC offers them a one-stop shop where they can find everything they need for the success of their business or kitchen.
Website

Activity

The range includes more than 36,000 products, thanks in part to experienced partners in the field of fresh produce. Each of these products has been selected by a team of connoisseurs. Each branch of Sligro-ISPC has 13 departments, each with a specific product range.
Attract customers from the local food service.
With the start-up of Sligro's sales point in Antwerp, Sligro-ISPC's marketing team has implemented numerous customer acquisition campaigns to attract and expand a network of new and local customers in the Horeca field.
Rakedi quickly sat down at the table to design a smart recruitment campaign.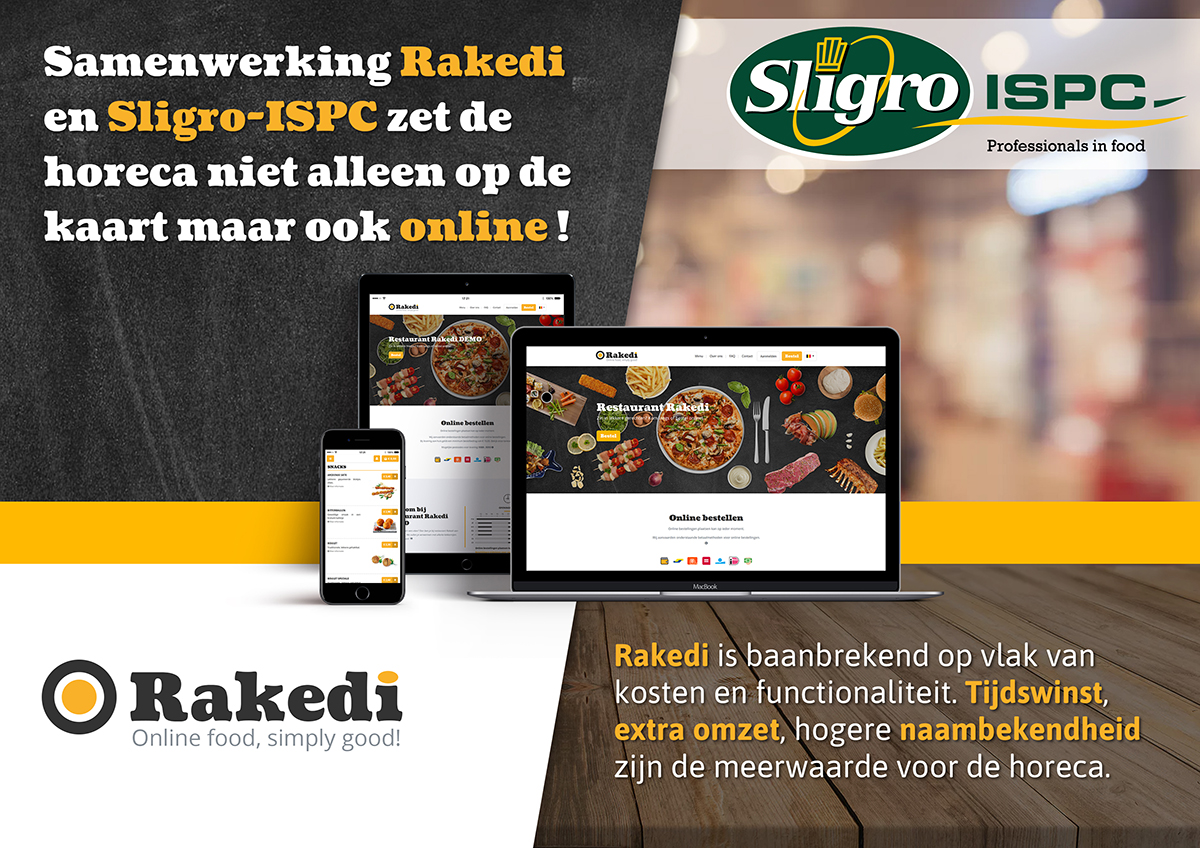 Joint acquisition of customers.
New customers in the Greater Antwerp region receive a Sligro-ISPC voucher as an incentive to recoup the start-up costs of their Rakedi website with online ordering platform from their purchases at Sligro-ISPC in Antwerp.
The intensive cooperation between the sales teams of Sligro-ISPC and Rakedi has helped attract many new customers.
Sligro-ISPC is known as an innovative player and trendsetter in the Horeca world. We want to educate our customers with the thought that digitalization is not only equal to 'the future', but simply the way to grow their business. Where we, as a supplier to the Horeca industry, use a professional B2B application for customer orders, Rakedi offers a transparent and personalised B2C solution for Horeca entrepreneurs who want to boom online. Through intensive cooperation of both sales teams, numerous of our customers have already discovered the added value of Rakedi in the form of rock-hard €'s and growth of their daily turnover.
Rudi Petit-Jean, Director of Sligro-ISPC Belgium