It all started out like a lot of small businesses. A concrete question, an idea on how to solve it. Joining the right people, a lot of projects and above all a lot of desire to undertake!
Gift cards
Your customers can buy gift cards and give them away both online and offline! The recipient can redeem them online from their account, in whole or in part, and can also bring them to the store in printed form.
Official unTill Dealer
We soon discovered the power of the unTill equipped POS systems and we came to an acquisition agreement with Kris Devuyst (Kassa Devuyst) and the unTill head office to start as Official unTill Dealer.
A new Rakedian in our team
Annelies joins us as Technical Support Agent. She already worked for us as a student and knows the application through and through. From now on, she will be available for advice and assistance by phone!
Invoicing module
The customer asks for an invoice? Private or business? With the Rakedi invoicing module, you can now create an invoice for both online and offline orders in no time!
Payment terminal
As of July 2022, merchants are required to offer electronic payment in addition to cash. We are now a CCV reseller and offer both the wired and wireless CCV solution, perfectly integrated with Rakedi Connectivity.
Rakedi personalised, own APP
With the Rakedi APP you get a personalised mobile application that your customers can put on their smartphones and tablets immediately, available in the iOS App Store and Google Play store.
Rakedi Reviews
Today, it is becoming everyone's reflex; "let's see what customers say about that business". Now you can also invite customers to give you a review and thereby reward your daily efforts to serve customers well. Because a good review encourages other customers to buy from you. Probably your cheapest marketing budget!
Rakedi Blog
Would you like to have your own "online gazette" and keep your customers informed of all the fun things going on in the business? Write your own blog in short messages, add a picture of your choice and put them online on your own website in no time, bet your customers will love this too?
Rakedi Partner Program
We like to reward loyal customers and with the Silver, Gold or Diamond formula you can earn a lot back. Take a look at the details of our offer!
Table ordering via QR code
What the customer does himself, he does better. Use the QR code on your tables for a direct link to your Rakedi ordering site and let the customer order by himself. More time for other customers and seamlessly integrated into your kitchen management!
RakediPOS
Rakedi wants to be much more than an online food ordering solution. Online sales are becoming more and more important in the turnover share of the modern catering business and our customers also want to integrate those orders in their POS system. We developed our own cash register solution based on an unTill license and now you can perfectly integrate online sales in your cash register! We also provide the necessary hardware!
A new service is born!
Being close to our customers is our leitmotiv!
We're not a little bit proud that we've grown significantly in 2020, which is why we've created a new department at Rakedi. With Rakedi's Customer Success department, you'll be in immediate contact with staff who know the application inside out and can answer all your questions. They are all driven, commercial and eager to become your motivated contact!
A difficult year for food service
We have had a year of exceptional growth, the global pandemic and government actions have deeply shaken the food service sector. We are very proud of the fact that we have been working hard for months to help so many entrepreneurs develop their online food ordering solution.
Rakedi Coins
Customers like to save, with Rakedi Coins you can now reward all customers for their online purchases. You decide what you give in exchange for the Coins and we'll tempt your customers not only with the quality of your dishes but also with the extras he can earn with the Coins!
Digital Signage
Use your online platform to automatically control your screens in the shop. Manage your entire menu with images, prices, and mood pictures yourself, in real time in the back office of your Rakedi website. Already have screens? No problem, we'll find out if we can reuse them.
Instore kiosk ordering
Increase your turnover, reduce your costs and improve the customer experience with an order kiosk in your business! The same look & feel as your online ordering platform and less traffic jams in your business!
QR-code registration
The National Security Council decided that hospitality businesses must record the attendance of their guests. Rakedi has developed a specific functionality that allows customers to register themselves via your Rakedi platform so that, in the event of an identified infection, the data can be communicated to the relevant government services.
Till connectivity unTill
Your online orders are now seamlessly transferred to your unTill POS for further processing. A nice time saver and you avoid mistakes. A nice example of cooperation between the cash register supplier and Rakedi to let the hospitality entrepreneur work faster and more efficiently.
Rakedi E-vent
The well-known Rakedi application was adapted to serve at fairs and events where visitors can order drinks and/or snacks. The sales staff can spend more time on the visitors and the catering of the fair or event receives the orders online.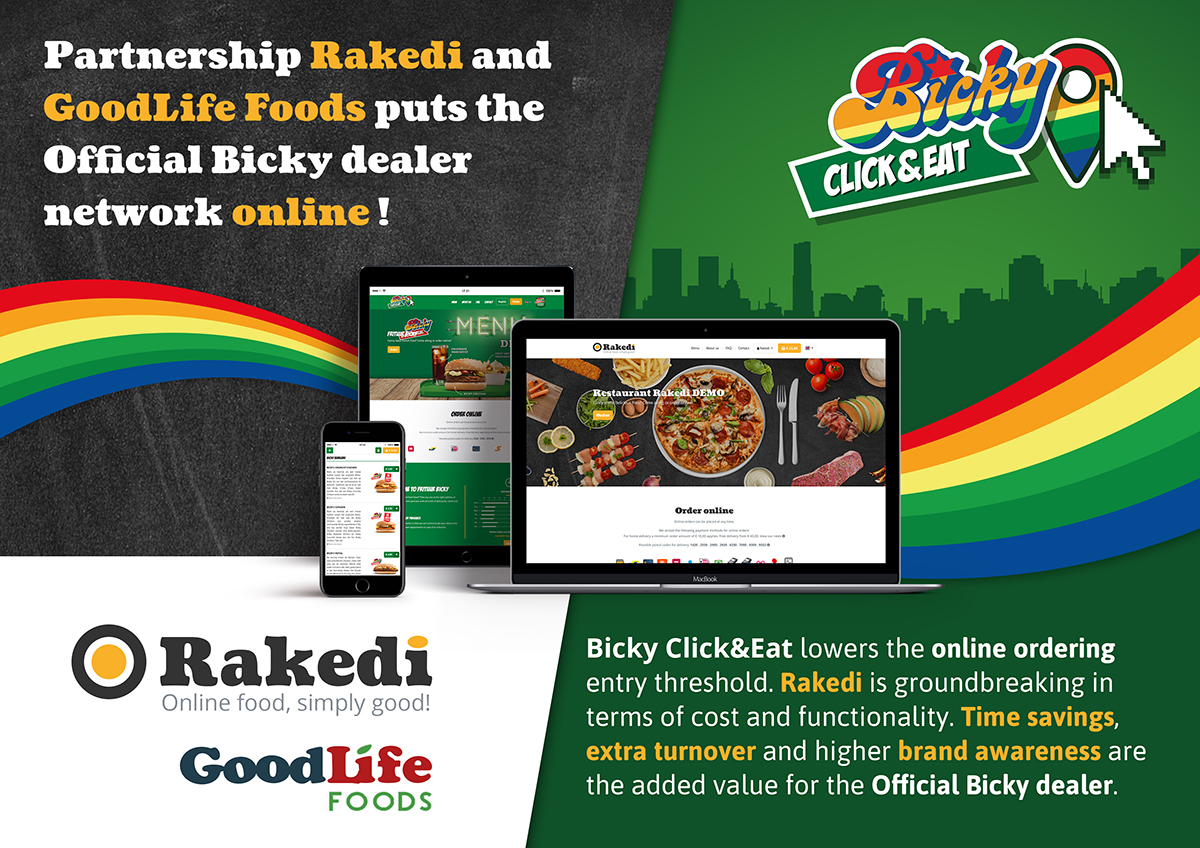 Pilot project Bicky Click & Eat
GoodLife Foods entrusted us with a pilot project to provide its Bicky Official Dealers, at the time a network of about 650 Belgian Fries outlets, a Rakedi solution called "Bicky Click & Eat". We are fully committed to this project and, in no time, 20 Official Bicky Dealers are committed to the project. Short time after, GLF decided to deploy Bicky Click & Eat throughout the network,the testing phase has passed!
Careful prospecting
The Rakedi website with its online ordering platform is programmed and ready to use. The first customers give us their trust and the whole team is committed: an informative website, documents for registrations, the collection of pictures for our food library, marketing campaigns, listening to the valuable comments of our first customers. And we're still prospecting!
Creation of Rakedi bv
Dieter, his wife Kelly, Christian from Ternat and Eddy, Dieter's father, decide to join forces and create "Rakedi, online food, simply good!" above the baptismal grounds. A new player in the market!
We ordered fries and all of a sudden...
It all started with a technical question when ordering fries in Ternat. If Dieter couldn't reprogram elements of an online ordering solution... A few days later, he knew: it's better to rebuild it from scratch! Many refelctions, calculations and enthusiastic ideas are born...